As the end of the year approaches, there's no better time for a celebration. Health Care Without Harm is pleased to announce the 2022 Climate Champions of our Health Care Climate Challenge initiative. Hailing from over 15 countries, this year's cohort of champions includes more than 50 health care institutions who are creating climate-smart health care around the world. 
The awards recognize the work of these institutions across the three pillars of the Health Care Climate Challenge: mitigation, resilience and leadership. From reducing their climate footprint, to sourcing renewable energy to power their facilities, to collaborating with their communities to prepare for the impacts of climate change, these institutions are using their innovation, ingenuity and investments to protect people and the planet.
It is an honor to celebrate these institutions for their commitment and success. We look forward to showcasing their work and supporting and inspiring other hospitals and health systems to step up to take on the Health Care Climate Challenge.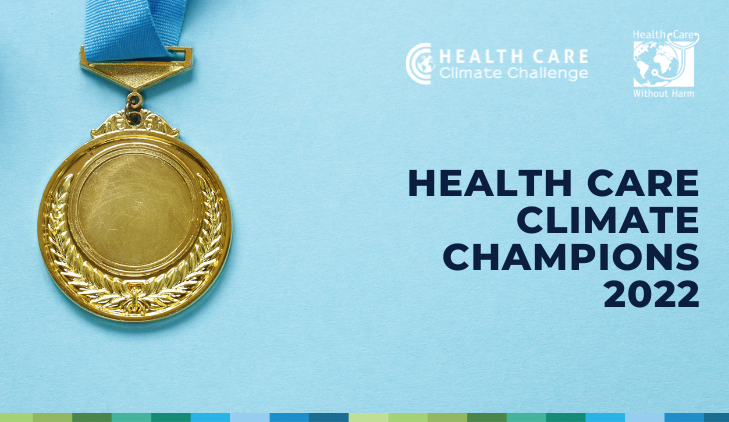 Meet the 2022 Climate Champions:
Africa
Bongani Regional Hospital (South Africa)
Climate Resilience – Silver
Egypt Healthcare Authority (Egypt)
Climate Leadership – Gold
Netcare Limited (South Africa)
Greenhouse Gas Reduction (Energy) - Gold
Renewable Energy - Gold
Climate Resilience - Gold
Climate Leadership - Gold
Western Cape Government Health (South Africa)
Greenhouse Gas Reduction (Energy) - Silver
Climate Resilience - Silver
Climate Leadership - Gold
Asia
Aravind Eye Care System (India)
Greenhouse Gas Reduction (Energy) - Gold
Renewable Energy - Gold
Europe
Children's Health Ireland (Ireland)
Climate Resilience - Silver
Climate Leadership – Silver
Departamento de Salud de Xàtiva-Ontinyent (Spain)
Climate Leadership - Silver
Dr. Becker Company Group (Germany)
Renewable Energy - Gold
Climate Resilience - Silver
Climate Leadership – Silver
Evangelisches Krankenhaus Hubertus (Germany)
Greenhouse Gas Reduction (Energy) - Gold
Climate Leadership – Silver
Galician Health Service (Spain)
Renewable Energy - Gold
Climate Resilience - Gold
Climate Leadership - Gold
Galician Health Service - Area Sanitaria de Santiago (Spain)
Greenhouse Gas Reduction (Energy) - Silver
Climate Resilience - Silver 
Climate Leadership - Gold
Hospital General La Mancha Centro (Spain)
Climate Leadership – Silver
Hospital Universitario de la Ribera (Spain)
Climate Leadership - Silver
Krankenhaus Havelhöhe (Germany)
Climate Leadership - Silver
Manchester University NHS Trust (United Kingdom)
Climate Leadership – Silver
Oviva (Switzerland)
Regional General Hospital of Syros (Greece)
Greenhouse Gas Reduction (Energy) - Gold
Climate Resilience - Gold
Climate Leadership - Gold
Region Västra Götaland (Sweden)
Sussex Community NHS Trust (United Kingdom)
Greenhouse Gas Reduction (Energy) - Gold
Renewable Energy - Gold
Climate Leadership – Silver
Global
Bupa
Greenhouse Gas Reduction (Energy) - Gold
Renewable Energy - Gold
Climate Leadership - Gold
Climate Resilience - Silver
Latin America
Clínica La Estancia SA (Colombia)
Climate Leadership – Silver
Hospital Clinica Biblica (Costa Rica)
Greenhouse Gas Reduction (Energy) - Gold
Renewable Energy - Silver
Climate Leadership - Gold
Hospital Infantil Pequeno Príncipe (Brazil)
Climate Resilience - Silver
Hospital do Rocio (Brazil)
Greenhouse Gas Reduction (Energy) - Gold
Hospital San Rafael de Pasto (Colombia)
Greenhouse Gas Reduction (Energy) - Gold
Hospital Santa Izabel (Brazil)
Greenhouse Gas Reduction (Non-energy) - Silver
Hospital de Transplante Euryclides de Jesus Zerbini (Brazil)
Energy Efficiency - Silver
Instituto do Câncer do Estado de São Paulo (Brazil)
Santa Marcelina Saúde (Brazil)
Climate Leadership - Gold
Sociedade Beneficente de Senhoras Hospital Sírio Libanês (Brazil)
Pacific
Ambulance Victoria (Australia)
Renewable Energy - Gold
Climate Resilience - Gold
Climate Leadership – Gold
Counties Manukau District Health Board (New Zealand)
Climate Leadership - Silver
Hunter New England Local Health District (Australia)
Greenhouse Gas Reduction (Energy) - Silver
Renewable Energy - Silver
Climate Leadership - Silver
Nepean Blue Mountains Local Health District (Australia)
Climate Leadership - Silver
South Metropolitan Health Service (Australia)
Climate Leadership - Silver
U.S. and Canada
Abraham Lincoln Memorial Hospital (U.S)
Greenhouse Gas Reduction (Energy) - Silver
Climate Resilience - Silver
Advocate Aurora (U.S)
Renewable Energy - Silver
Atlantic Health (U.S)
Climate Resilience - Silver
Climate Leadership – Gold
Beth Israel Deaconess Medical Center (U.S)
Greenhouse Gas Reduction (Energy) - Silver
Renewable Energy - Gold
Climate Resilience - Silver
Climate Leadership – Gold
Canadian Coalition for Green Healthcare (Canada)
Climate Leadership - Gold
Gundersen Health System (U.S)
Climate Resilience - Silver
Climate Leadership - Silver
Renewable Energy - Gold
Hackensack Meridian Health (U.S)
Climate Leadership - Gold
Climate Resilience - Gold
Health Partners (U.S)
Greenhouse Gas Reduction (Energy) - Gold
Renewable Energy - Gold
Climate Leadership - Gold
Inova Health System (U.S)
Climate Leadership - Silver
Climate Resilience - Silver
Kaiser Permanente (U.S)
NYU Langone Health (U.S)
Climate Resilience - Silver
Climate Leadership – Silver
Ohio State University Wexner Medical Center (U.S)
Climate Resilience - Silver
Climate Leadership - Silver
Renewable Energy – Silver
Providence (U.S)
Climate Resilience - Silver
Climate Leadership - Gold
Rochester Regional Health (U.S)
Renewable Energy - Gold
Climate Resilience - Silver
Climate Leadership – Silver
Seattle Children's (U.S)
Climate Resilience - Silver
Climate Leadership – Gold
UC Davis Health (U.S)
Renewable Energy - Silver
Climate Resilience - Silver
Climate Leadership - Gold
UC Irvine Medical Center (U.S)
Greenhouse Gas Reduction (Energy) - Gold
Renewable Energy - Gold
Climate Resilience - Silver
Climate Leadership - Gold
UC San Diego Health (U.S)
Greenhouse Gas Reduction (Energy) - Gold
Renewable Energy - Gold
Climate Leadership - Silver
UC San Francisco Health (U.S)
Climate Resilience - Silver
Climate Leadership – Gold
The University of Vermont Medical Center (U.S)
Renewable Energy - Silver
Climate Resilience - Silver
Meet the Climate Champions of previous editions of the Challenge