All around the world, at health care facilities large and small, urban and rural, 2020 Challenge participants are leading the transformation to climate-smart health care. By using their innovation, ingenuity, investments and voice, they are reducing their climate footprint, developing low-carbon models of care, adapting to stand resilient to a changing climate and advocating for policies to protect the future health of the planet. 
For many participants, this is their third consecutive year receiving the Climate Champion Awards. Their dedication is inspiring to us all and demonstrates that achieving climate-smart health care is an ongoing and iterative journey.
Collectively, the 2017 Climate Champions and other reporting participants have committed to reduce their greenhouse gas emissions by 16 million metric tons of CO2e. Their determination and dedication is evident in their rapid progress towards achieving these targets and continually challenging themselves to go further.
Image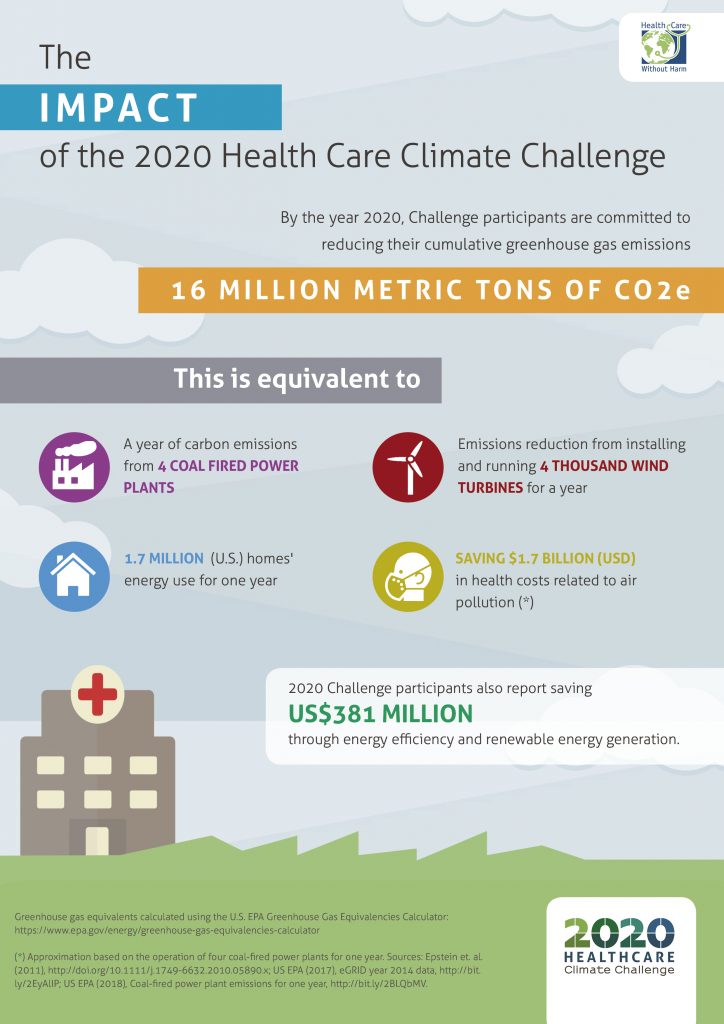 2020 Challenge Climate Champions- 2017
AFRICA
The Mohammed VI University Hospital of Marrakesh, Morocco:
SILVER- Renewable Energy
SILVER- Climate Resiliency
GOLD- Climate Leadership
Netcare Limited, South Africa:
SILVER- GHG Reduction (Energy)
SILVER- Renewable Energy
GOLD- Climate Resiliency
GOLD- Climate Leadership
Western Cape Government Health, South Africa:
GOLD- Climate Leadership
EUROPE
Instituto Catalán de Oncología, Spain:
SILVER- GHG Reduction (Energy)
Northampton General Hospital, United Kingdom:
SILVER- GHG Reduction (Energy)
Vivantes Klinikum Neukölln, Germany**:
SILVER- Climate Leadership
**- Member of the European Health Care Climate Council
Global
British United Provident Association (BUPA)
GOLD- GHG Reduction (Energy)
SILVER- Renewable Energy
Latin America
Hospital Clínica Bíblica, Costa Rica:
GOLD- GHG Reduction (Energy)
SILVER- Renewable Energy
GOLD- Climate Leadership
Hospital Estadual Américo Brasiliense, Brasil:
GOLD- Climate Leadership
Hospital Nossa Senhora da Conceição, Brasil:
GOLD- Climate Resiliency
Hospital Santa Izabel, Brasil:
GOLD- Renewable Energy
Instituto Estadual do Cérebro Paulo Niemeyer, Brasil:
GOLD- Energy efficiency
SPDM- Hospital Geral de Pedreira, Brasil:
GOLD- Greenhouse Gas Reduction (Non-energy)
PACIFIC
Auckland District Health Board, New Zealand:
SILVER- GHG Reduction (Energy)
SILVER- GHG Reduction (Non-Energy)
SILVER- Climate Leadership
Counties Manukau District Health Board, New Zealand:
GOLD- GHG Reduction (Non-Energy)
SILVER- Climate Leadership
Mater Misericordiae Limited, Australia:
GOLD- Climate Resiliency
SILVER- Climate Leadership
New South Wales Nurses and Midwives' Association, Australia:
SILVER- Climate Leadership
US and Canada
Canadian Coalition for Green Health Care, Canada:
GOLD- Climate Leadership
Dignity Health, United States*:
SILVER- GHG Reduction (Energy)
SILVER- Renewable Energy
GOLD- Climate Resiliency
GOLD- Climate Leadership
Gundersen Health System, United States*:
GOLD- GHG Reduction (Energy)
GOLD- Renewable Energy
Kaiser Permanente, United States*:
GOLD- GHG Reduction (Energy)
GOLD- Renewable Energy
Partners HealthCare, United States*:
GOLD- GHG Reduction (Energy)
GOLD- Climate Resiliency
GOLD- Climate Leadership
Synergie Santé Environnement, Canada:
SILVER- Climate Leadership
University Health Network, Canada:
GOLD- Climate Resiliency
GOLD- Climate Leadership
*- Member of the US Health Care Climate Council