Members of the GGHH network can now access Sustainable Procurement Checklist, a tool especially designed to help health care organizations design and implement sustainable procurement programs.
With 71% of the emissions from the health sector primarily derived from the health care supply chain, what organizations buy directly impacts communities and environmental health.
Sustainable procurement checklist is a new self-assessment tool for GGHH members on Hippocrates. Designed to be used with our Sustainable Procurement Guide, Checklist assists organizations to design and implement effective procurement strategies via the plan - do - check - act cycle described in the Guide.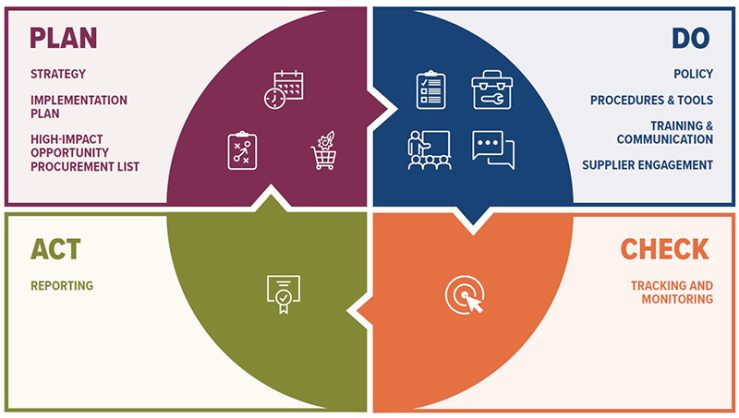 Checklist is tailored to meet the needs of organizations looking to assess the status of their sustainable procurement practices, track progress, and benchmark results. It allows health care institutions to obtain a snapshot assessment of their current procurement program and receive guidance on strategies to continue to improve and progress via the Sustainable Procurement Guide.
Checklist is intuitive and easy to use. Just log in to GGHH Connect and start planning your next procurement strategy. Not a member yet? Join the GGHH network for free, and receive access to our library of tools and resources to guide health care in how to be sustainable and climate-smart.
Access the recordings of the launch session in English and Spanish.