Health Care Without Harm, the official health care sector partner of Race to Zero is thrilled to announce that over 70 health care institutions, that are members of the GGHH Network and represent more than 14,000 hospitals and health care facilities from 25 countries, have joined the campaign.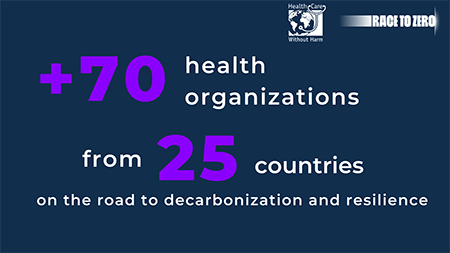 On every continent, institutions rural and urban, large and small, are committed to tackling climate emissions within their institutions and accelerating the transition to a healthier, cleaner world. They are raising the bar for the sector as a whole and redefining what sustainable, climate-smart health care should be. 
The UN-backed global campaign, Race to Zero, is the largest global coalition of credible net-zero commitments, uniting stakeholders across sectors to pursue a resilient, zero-carbon recovery for both people and the planet. These health care institutions' participation highlights the sector's critical role in addressing climate change and fostering a sustainable future, and their commitment to integrating sustainability and climate action into their work.
For more information on the Race to Zero campaign and Health Care Without Harm, please visit healthcareclimateaction.org/racetozero.