The 15th Healthy Hospitals Seminar 2022 (SHS 2022), held by our partner from Brazil, Healthy Hospitals Project (PHS), took place on November 29 to December 1 under the theme "From plans to practice: challenges and reflections to face the climate emergency in healthcare." 
The seminar focused on the topics of climate, energy and sustainable procurement. Speakers and presentations discussed strategies, solutions and approaches the health care sector can implement to reduce their environmental footprint of these areas.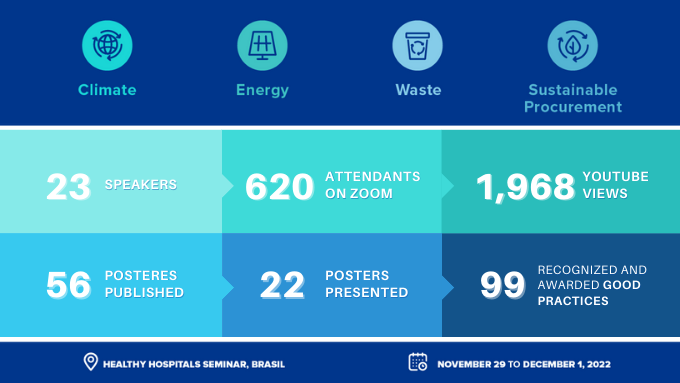 The online event provides an important opportunity for Brazilian health care professionals from all fields to learn from one another, be inspired by the work happening across the country and take this knowledge back to enact change at their own health care institutions.
During the event, PHS recognized 15 Brazilian institutions with the Environmental Friend Award 2022 for their sustainability initiatives in the Brazilian Unified Health System. On the event's final day, a virtual poster session showcased over 20 examples of how GGHH members are developing and implementing innovative solutions to address the 10 sustainability goals. Check out all the posters here (in Portuguese).
Recordings of all event sessions are available here. 
Learn more about SHS 2022: www.hospitaissaudaveis.org/Evento/92