The Climate and Health Alliance / GGHH Pacific Region and Hunter New England Local Health District are bringing the 2022 Greening the Healthcare Sector Forum to Awabakal country, Newcastle, Australia.
After a challenging two years of pandemic and natural disasters, this Forum will inspire healthcare providers to make positive changes towards a more sustainable healthcare system. The forum will take place on Friday, October 7 at the Hunter Medical Research Institute, New Lambton Heights, Australia (in-person) or online.
Image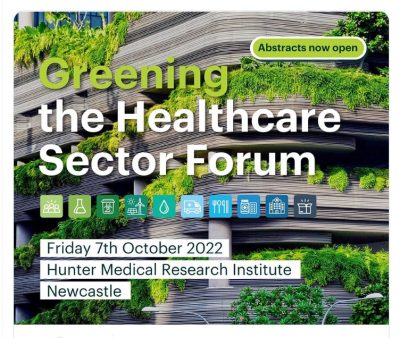 Event details
When and where: The Forum will take place on Friday 7 October in-person on Awabakal country, at the Hunter Medical Research Institute in Newcastle, and online.
Who should come: Anyone interested in improving the environmental footprint of healthcare and aged care, and fostering a healthy future for people and the planet. The forum will provide opportunities for connection, knowledge sharing, learning and upskilling, for both in-person and online attendees.
About the program: The overarching theme of the Forum is 'Driving systems change for sustainable healthcare'. Together, we'll examine these three questions:
Where are we at? Gathering the evidence
What can we do? Sustainable healthcare and circular economy solutions in practice
What is the big picture? Policy for sustainable healthcare
A diverse line-up of speakers, from healthcare, government, industry partners, academia and beyond, will share their expertise on current research, policy, industry innovations and practical examples of sustainable healthcare in action:
Dr David Pencheon, internationally acclaimed sustainable healthcare researcher-practitioner
Laureate Professor Nick Talley, Editor-in-Chief of Medical Journal of Australia and globally influential gastroenterologist
Sonia Roschnik, Executive Director at the Geneva Centre of Healthcare Leadership for Sustainability
And many more, from the most experienced to the next generation of sustainable healthcare innovators