Early bird tickets are now available for the Greening the Healthcare Sector Forum, which will take place on September 14 - 15, in-person on Noongar Country in Perth at Fiona Stanley Hospital, and online.
This forum is co-organized by the Climate and Health Alliance (CAHA), the Global Green and Healthy Hospitals Network (GGHH Pacific), and Western Australia Sustainable Development Unit (WA SDU), and hosted by South Metropolitan Health Service (SMHS).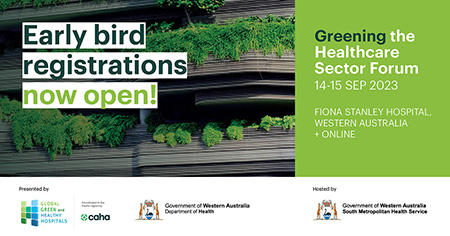 The theme of this year's forum is "Empowering action for sustainable, climate resilient healthcare". The world is striving for a low carbon, sustainable and climate resilient future – and health care delivery must change alongside it. Our forum will be focused on the 'how' – how do we empower action to deliver sustainable and climate resilient healthcare? 
A diverse line-up of speakers, from healthcare, government, industry partners, academia and beyond, will share their expertise on current research, policy, industry innovations and practical examples of sustainable healthcare in action.